Librariana
E-mail
Archives

Extra sugar, extra salt, extra oil and MSG!
Sunday, March 28, 2004
SORRY, KIDS
"Liberry Blooze" will be scaling back to an "updated intermittently" blog with a more library-related focus. Not much fun, I know, but- dude! Check out this
Star Trek library
!
Monday, March 22, 2004
MY NEW FAVORITE PICK-UP LINE
From a deleted scene of
Futurama
(ep: "Parasites Lost"):
"Bring me my library card 'cause I'm checkin' youse out!"
While you're at it, check this out:
Vocational Guidance Films, Inc., present:
The Librarian.
PUBLIC SERVICE IS DEAD
The mainstream media can be so pathetic. Desperate to create news where there isn't any, while conveniently ignoring the important things that
are
happening, one of their beloved tasks is determining what's "dead." As in "rock is dead," magazines cried in the mid-'90s, citing crossover electronica artists like The Prodigy as the next big thing. And what, I ask you, has the Prodigy been up to since? Anyone? Anyone? Rap and R&ampB have been dominating the charts, mainly, but lame "rock" bands like Nickelback still manage to make a sizable dent (four mil) in the Billboard 200. So Lenny Kravitz had a point, to a certain extent, that rock is no longer king, but rock and roll will never die.
Prince knows
, even if he, too, has abandoned the fold. He deserves his newly won spot in the Rock and Roll Hall of Fame, but the guy hasn't made a decent pop record in almost ten years.*
It's hard to imagine books ever disappearing, but people sure seem to have a lot invested in the idea. Do we really hate books so much as a society that we're chomping at the bit for them to disappear? CNN recently printed a fluff-piece about the death of the encyclopedia (
"Encyclopedias gather dust..."
) and I can tell you that whatever the Associated Press might want you to believe, the encyclopedias at my library get heavy use. So do the online encylopedias, for that matter, and Grolier Encyclopedia online is still an encyclopedia.
Read a hundred other websites to get a thorough discussion of why your average Google search is still not as good as a well-trained reference librarian (even if s/he is Googling, too), the point is this: if you're doing any kind of serious research you don't want to get your facts from LiveJournal or some hate-group. Kids don't always know the difference between a reliable source and a biased or inaccurate one.
Adults
don't always know the difference. Many people have difficulty filtering out any kind of useful results at all.
As with so many things in our society, the difference is one of class and education. I trust my middle-class, college-educated friends to get what they need online. Many public library patrons are often low-income, elderly, non-native English speakers, or any other number of categories of people who have limited experience with either computers or research. Those people need someone to guide them, and they have every right to that service as you do to look it up yourself. Believe it or not, there are also some people out there who don't even
want
to use a computer, they want to use a book. It's weird, I know.
(hushed whisper)
: Sometimes...books can even be faster...shhh! Don't tell anyone!
So the next time you complain about high taxes, remember that the publicly-funded library helps a whole lot of people, maybe even people who clean your homes and offices, or drive your taxis, or fix your roads, or watch your children. People who might not've been able to get hired without the library's help. So unless you're willing to do all those jobs when the public libraries and schools have been dismantled and the borders have been permanently closed, you might want to reconsider your position.
Today's sermonizing has been brought to you by The OinkStick™:
"In this busy world, who's got time to make imitation pig sounds anymore? The OinkStick can help your family, just like it did mine. Sooooouuuuuwee! Here, pig, pig! Here, pig! Ha ha - fooled you again! The OinkStick™, another fine product for your home from Lockheed-Martin. Thank you, OinkStick, you're the best!"
*It'll be interesting to see how Prince "retires" his old songs on his tour this summer, but I don't think I'm willing to pay $88 to find out. The last time I saw him play a stadium he ripped through his hits in truncated melodies, and that was
before
he was a
Jehovah's Witness
. It's hard to believe he's going to give he show his all if he does, in fact, feel that his old material is no longer appropriate.
Saturday, March 20, 2004
STUPID, RANDOM QUESTIONS = ACCURATE PERSONALITY ASSESSMENT?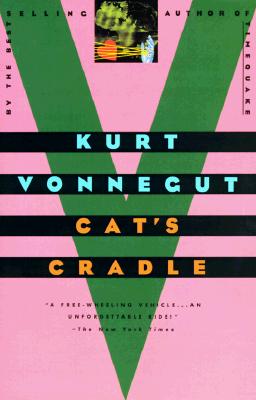 You're Cat's Cradle!

by Kurt Vonnegut

You believe quite firmly that free will deserted you long ago and far
away. As a result, it's hard to take responsibility for anything. Even though you show
great potential as a leader of a small 3rd world country, the choices are all made ahead
of time. You're rather fond of games involving string. Your fear of nuclear weaponry is
trumped only by your fear of ice.


Take the Book Quiz
at the Blue Pyramid.
[ via
Sulkbrarian
]
Tuesday, March 16, 2004
MY LATEST HAUL
Dion - Greatest Hits
This is so pathetic.  A few nights ago I found myself hypnotized by The Lovin' Spoonful's John Sebastian, who was on TV shilling for Time-Life's
The Folk Years
box set.  As a result, I decided that I
needed
to get a copy of Dion's "Abraham, Martin, and John" immediately.  So here we are.  Besides, I figured it wouldn't hurt to have "The Wanderer," "Runaround Sue," and "Teenager in Love," and I wanted to hear his cover of Springsteen's "If I Should Fall Behind."  Also, I need to get some Trini Lopez.  The TV told me so.
Nilsson - The Point!
I already own a decent copy of the LP and a VHS tape of the Ringo Starr-narrated cartoon based on the album, but I've had my eye on the CD for awhile, since it was released with several bonus tracks, and I can't listen to 12" records in my car.  Yet.
Clark Terry &amp Chico O'Farrill - Spanish Rice
The album cover says it all:
McCoy Tyner - Land of Giants
This is Tyner's most recent CD (released by Telarc last year), featuring the same rhythm section I saw him perform with, and the mighty Bobby Hutcherson, vibraphonist and perennial favorite of yours truly.  Haven't listened to enough of it to comment on the performances, but the recording is really annoying.  The clicking of the bass strings is the most prominent sound in the mix and it's very hard to understand why they didn't fix that.  This is one of those CDs where they list the microphones, preamps, monitors, digital conversion processor, and monster cables they used to make a really crappy sounding record.  Congrats, engineers of Avatar Studios, Inc.! 
Papa M - Hole of Burning Alms
While I suspect I would really hate David Pajo if I ever met him, he manages to keep delivering the goods when it comes to mellow instrumental music: Papa M is exactly what I want to hear. 
Hole of Burning Alms
is a collection of singles and leftovers from 1995-2000, including a whispering cover of The Misfits' "Last Caress" that's as subtle as a rhino (replete with chirping birds), and an endless jam on The Byrds' "Turn, Turn, Turn."  The only misstep is a stab at techno during "Travels in Constants," but at least it's better than Bob Mould's awful
Modulate
.  Pajo's electronica borrows a little from the Aphex Twin soundbag, so his head was in the right place.  Still wondering why the letter "M" is so significant to him, though.  Technically this CD features songs by Papa M, Ariel M, M is the Thirteenth Letter, and just plain M.
Small Faces - In Memoriam
I couldn't help myself; it was on sale.  I didn't know exactly what I was getting when I bought it, but
In Memoriam
was an odds-n-ends compilation released in 1970 after Steve Marriott left the band. The first half is a set of poorly recorded live tracks (including a rampaging go at "If I Were A Carpenter") and the rest includes some classic-sounding Small Faces tunes, two of which are instrumentals.  The CD is another one of those LP-style packages that appeal to music-geeks like me, but I probably could've lived without it.  On the bright side, I can probably make my money back pretty easily since it's an out-of-print Japanese import.  Still can't help thinking I should've resisted the aesthetic pull of this CD and bought the more thorough
Odds and Mods
compilation instead.
Super Furry Animals - Radiator
"Chupa chupa chupa Chupacabras." Say no more.
P.S. Those Time-Life people really have their hooks in my flank.  Last night I caught myself eyeing a two-disc Hall &amp Oates import, and that's just sick.
Monday, March 15, 2004
LET'S ESTABLISH A FEW RULES
Dear Rock Fans,
(1) Please get a sense of humor. 
(2) Keep your middle finger to yourself.
(3) Keep as much of your drink in your cup as possible.  Do not whip your ice into the crowd.
(4) Please do not go to a show if you don't like the band.
(5) If you were confused and
thought
you liked the band, but are hating the show, please leave.  You won't get your money back anyway so you might as well go have fun somewhere else instead of ruining it for the rest of us.
(6) If you claim that you're recording the concert and have your stuff plugged into the sound board, please have a damn good reason for doing so.  Pushing your way in front of a bunch of short girls, claiming you're protecting the microphone stand, then chatting and not clapping or smiling through the whole show is a good way to get your ass kicked by a total stranger.  When somone asks "who are you recording this for," "us" is not a sufficient answer, and may result in further ass-kicking.  Acceptable answers include "a local college radio station" or "the band."
(7) Whatever you're about to yell: please keep it inside.  It is highly unlikely that everyone else will think your comment is as funny as you imagine it might be.  Requesting "Free Bird" is not funny, unless there is a reasonable chance that the band will actually play "Free Bird" (e.g. Built to Spill).  
(8) Shouting "woo!" or "yay!" or "good job!" or "hot damn!" or some such is an acceptable accompaniment to applause.  Yelling the same during a slow, quiet song or while the band is trying to speak is not acceptable. 
(9) It's great that you know the words.  Most of us paid to hear the band sing 'em, though, so it would be better for everyone if you didn't belt out your own tuneless version of every song.
So, yeah, I'm getting "older" (29) and my patience has worn terribly thin.  Getting ready to see
The Hold Steady
on Saturday night I was seriously wondering why shows have to start so late.  We got there just as the Monarques were going on and I thought "oh great, now we have to sit through this whole band in a crowded, smoky room," and then I bemoaned the lack of rocking chairs on the premises and complained about the pain in my dentures. 
Actually, the Monarques weren't so bad, and the pregnant bartender poured a decent drink (once I managed to wedge my way up to the bar), but there was this couple there recording the event that really drove me (and Kelly) nuts (see rules four through six above).  There were plenty of good shows to be at Saturday night: 12 Rods, The Owls/Walker Kong, Savage Aural Hotbed, All The Pretty Horses, uh...Kid Rock.  Go look unhappy somewhere else, please!  The girl actually gave people dirty looks for looking like they wre enjoying themselves.  Seriously.  There were bad vibes just stinkin' up the room.  Especially (see rule numbers one and two) during the surprise appearance by Steve Barone's
The Hawaii Show
before The Hold Steady came on.  Breaking tradition, Steve, the Afrodisiac, and a couple other guys worked the mic live, turning "Shaved Ice" into a Beasties-esque workout, tearing up the stage old school.  It was totally awesome.  Unfortunately a bunch of tough-guy wannabe meatheads didn't think it was very funny.  Something really annoys me about
Lifter Puller
fans - too many of 'em have got something to prove, but for whatever reason they only express the giant chips on their shoulders at LP shows (probably because they're not nearly as tough as they like to pretend to be).  The second LP reunion show at the
Triple Rock
last summer was out of control with these guys (see rules three, seven, eight, and nine) and it kinda killed the mood.  There was a bit of that at the Hold Steady show, too.
I've seen Craig Finn perform four times in the last year, once at the
Mercury Lounge
with the Hold Steady, once at the Triple Rock with THS, and twice at the Triple Rock with Lifter Puller.  Two bands, two nights each, and for both bands I had a much better time the first night.  I give partial credit to the well-behaved crowd in New York.  Maybe it's because they lack that Twin Cities proprietary attitude where everyone's trying to prove how much more they like the band than everyone around them by being a big jerk and ignoring the music.  Also, there's no smoke (big plus).  I think that the excitement of seeing him back in action has worn off a little, though.  In New York it seemed like THS were a little tighter and a little more song-oriented than LP had been at the end.  I was glad to see the music take a more important role than it had in 
the brokerdealer
project, which featured Craig ranting over electonic bleep-bloops.  Seeing them again, though, it's clear that THS is still a vehicle for Craig to shout over, only now there's Tad Kubler's lead guitar to occasionally share the spotlight, sounding sometimes like Slash, sometimes like...Nancy Wilson?  The Edge?  Billy Corgan?  Arena rock, in any event.  I was happy to get the CD for only $10, even though it sounds like (on first listen) THS shares LP's predilection for studio recordings that don't match the power of the live band sound.  It's good - don't get me wrong - it's just that I had another one of those
Half Dead and Dynamite
moments where I'm like, "what's that horrible keyboard doing there?"  And then you almost forgive all the jerks who made the show such an ordeal, because it's the only way to get the pure, raw stuff.
Thanks for making the trip out here, guys.  Hope to see you again soon.
Wednesday, March 10, 2004
KALEIDOSCOPIC MEDITATIONS

William Hung: the new Wesley Willis?
I dropped my Fender Telecaster on my toes the other day. 
Never
drop a Telecaster on your foot.  Hurts like a mofo.
Kelly and I are planning a trip to New York next month.  If all goes according to plan, we'll be seeing Caetano Veloso with David Byrne, Magnetic Fields, and Guided By Voices.  Potentially also Stereolab, Tortoise, Snow Patrol, classical pianist Alfred Brendel, and Elf Power, but since Snow Patrol and Stereolab are both playing in Minneapolis in April we'll probably skip those.   
Can't wait to see The Hold Steady at the Triple Rock on Saturday.
Saw
Starsky &amp Hutch
last weekend.  Highly entertaining but not mind-blowingly great.  Shocking appearance by Har Mar Superstar in a disco dance-off with Stiller's pseudo-Freudian Starsky.  UCB's Matt Walsh has a (disappointingly silent) cameo, as well.  
Worlds collide: Michael Blieden, who wrote and starred in the film
Melvin Goes To Dinner
, which was directed by Bob Odenkirk, recently appeared on Fox's excellent "Arrested Development," featuring David Cross and
Starsky &amp Hutch
's Jason Bateman.  Then I spotted Stephanie Courtney, also of
Melvin Goes To Dinner
, in a third season episode of "Angel" (playing Gwen, Wolfram &amp Hart's one-woman files and records dept.).  In Angel's first season, Mr. Show writer/actor BJ Porter appeared as Dennis (Cordelia's apartment ghost).  What a wonderful world.    
Actor Paul Winfield is dead
.  I saw him in
Othello
at the Guthrie in 1993 (with Robert Foxworth as Iago), but of course he is beloved for his role as Captain of the U.S.S. Reliant in 
Star Trek II: The Wrath of Khan
(not to mention his police lieutenant in
The Terminator
and the judge in
Presumed Innocent
).  
Levi's closed their last two U.S. plants in January.
"The Liberal Media." 
Why was Donald Rumsfeld meeting with Time Magazine editors
?  They actually went to the Pentagon and allowed him to influence the "Person of the Year" selection.   
October, 2003. 
Dick Cheney, not using 9/11 for political gain
: "As long as George W. Bush is president of the United States, this country will not permit gathering threats to become certain tragedies."  Got that everyone?  Vote Bush in '04 or more civilians will die!  Sounds like a thinly-veiled terrorist threat to me. 
January, 2002.  Cheney personally asks Senate Majority Leader Tom Daschle to limit the congressional investigation into the events of September 11, 2001. 
Daschle and Cheney publicly contradict one another the following September on "Meet The Press."
  Nobody pays attention.  
May, 2002.  The Bush administration accuses Washington Democrats of being political opportunists for wanting to launch a congressional investigation into
allegations that the White House knew of potential terrorist threats in the months leading up to September 11, 2001
.   
November 2002 - January 2004.  Bush administration obstructs investigations into 9/11 disaster, seizing notes from the independent commission investigating, withholding documents, and limiting the panel's budget.  
September, 2001.  Members of Osama bin Laden's family are allowed to fly out of the US immediately after September 11, while all other air traffic is grounded.  
July, 2003.  George W. Bush on violent threats toward U.S. soldiers in Iraq: "Bring 'em on."  
Alternatives to Public Libraries
from a tax-hater.  
Minnesota's Corporate Welfare Law.
I'm more than a little curious about the book
Mauve: How One Man Invented a Color That Changed the World by Simon Garfield
.  How can you not be intrigued by a book review that begins "In 1856, while trying to synthesize artificial quinine..."?  
Terry Eason's Elephant Garden.
Spectropop's Curt Boettcher Page.
The Trautonium.
Build your own.
I saw the McCoy Tyner trio at the Dakota Tuesday night.  Tyner was stunning; I think he's one of the most technically proficient pianists in any genre.  His solo "Memories" sounded like a random sampling of three different radio stations, and there was a nice moment of pure improvisation near the end, interrupting what was to be Tyner's band intro.  Someone needs to give Eric Harland his own group, he's one crazy drummer.  Very good but occasionally overpowering for an acoustic jazz trio.  Bassist Charnet Moffett was using a freakin' effects pedal, though.  Very un-jazz.  
I've never liked The Doors and I probably never will.
Bringing things full circle:
Special Music From Special Kids.
Looks like
they're still going strong
!
TAKE IT BACK, JACK!
I don't make much of an effort to stay on top of the blogosphere anymore, so I've been pretty lax about commenting on current events. By the time I get around to it there's usually no point. I'm backtracking today, though, because I got a petition from MoveOn.org to
fire Rod Paige
. The Bush-appointed Secretary of Education, if you haven't heard,
called the National Education Association a terrorist organization
a few weeks ago. So in case you weren't sure what George Bush means when he says that terrorists are plotting against us: he means public school teachers, librarians, and unions. This is the terrorist threat we must fight, no matter what the cost to our civil liberties or the lives of our soldiers.
Feeling safe yet?
Monday, March 08, 2004
GBV ON MARS!
Check-check-check it out:

After more than a week of camping and field work at "Middle Ground," NASA's Spirit took a few last pictures from there then drove onward to the northeast on sol 61, which ended at 9:51 p.m. Friday, PST. In the martian morning, Spirit's panoramic camera took the final frames needed for the camera team to assemble a full-circle color panorama after all the data reaches Earth.

In the early afternoon, Spirit backed up 0.5 meter (20 inches), then edged forward 0.29 meters (11 inches) to sidestep a rock called "Ingrid." Then the rover advanced 28.5 meters (94 feet) toward its crater-rim destination. The drive took 45 minutes. From the new location, Spirit took forward-looking pictures for use in future drive planning. It also observed the ground and the sky with its miniature thermal emission spectrometer.

For the sol's theme tune in the morning, controllers at JPL played "Motor Away" by Guided by Voices.

Continued driving toward the crater nicknamed "Bonneville" is the plan for Spirit's 62nd sol, ending at 10:30 p.m. Saturday, PST.

Saturday, March 06, 2004
CHOCK FULL O' HOBBITTY GOODNESS
Impatient completist geek that I am, I am happy to report that news is already surfacing about the Extended Edition of
The Return Of The King
.  First things first: while rumors (promulgated by Ian "Bigger Is Better" McKellan) circulated that the extended edition might be five hours long (or more), Peter Jackson has turned in a four hour and ten minute long version.  For those keeping score at home:
| Film | Theatrical Release | Extended Edition |
| --- | --- | --- |
| The Fellowship of the Ring | 178 minutes | 208 minutes |
| The Two Towers | 179 minutes | 223 minutes |
| The Return of the King | 201 minutes | 240 minutes |
(ROTK EE length confirmed by
Digital Spy
and
USA Today
)
The theatrical version should be out on DVD in May or June, and we have to wait until November (again) for the big momma.  
Content is still a bit of a mystery, however.  Back in December,
Ain't It Cool News
reported a bunch of 
possible
scenes they
thought
might be included (some of which should improve the film drastically). These include: Gandalf confronting Saruman at Isengard (painfully absent from the theatrical cut), Pippin pledging allegiance to Theoden at Edoras, Aragorn using the Palantir to reveal himself to Sauron, the Witch King confronting Gandalf during the battle of Pelennor Fields, the Houses of Healing scene in which Faramir and Eowyn meet, a disguised Sam and Frodo joining a column of orcs on the way to Mt. Doom, and the Mouth of Sauron riding out to meet Aragorn at the Black Gates with "proof" that Frodo and Samwise are dead.  
The Digital Bits Rumor Mill
adds "We've also heard that the drinking game at Edoras between Gimli and Legolas will be added back in, along with possibly more footage showing other characters going into the West at the end of the film."   
What about some explanation for the crazed state of Denethor? If they don't show his Saruman-esque dalliance with the Palantir in Minas Tirith the movie still won't make sense to anyone who hasn't read the books. It explains his erratic behavior and creates a stronger connection between Denethor and Pippin. Also, I wish they would reshoot the embarrasingly bad "Pinball Wizard" sequence where Pippin swipes the Palantir from Gandalf, but I doubt I will have such luck. That could've been
so
much better. I think Peter Jackson has a serious problem with filming abstract concepts (see also: bad "dream sequence" editing when Frodo recovers in Rivendell).
The only official word I've found so far came from PJ in an
Entertainment Weekly
interview:

There are scenes that were cut from the finished film. Will we see them on DVD?
We have an hour of footage we shot for ''Return of the King'' that we didn't put in the movie. I'm going to work on an extended DVD version, though I don't think all of that will make it in because the pacing would be really weird. But there's some good stuff that's not in the book. We did a funny scene between Gimli and Legolas having a drinking competition which I really quite liked, but we felt [it was too comedic] at a point when we wanted to set up the tension of the story. And there's a sequence of Sam and Frodo disguised as orcs where they end up in the orc army for a while.

That jibes with two of the less important bits reported by the rumor-mongers.  More info should be available from
New Line
on Monday; meanwhile, here's some
Return of the King
Oscar trivia from IMDb:


The Lord of the Rings trilogy became the most nominated film series in Academy Award history with 30 nominations, surpassing both the Godfather trilogy (28) and the Star Wars franchise (21).


The first sci-fi/fantasy movie to win Best Picture. Also the first sci-fi/fantasy movie to win Best Director.


The first sci-fi/fantasy movie to win a top category since 1985 (Don Ameche won Best Supporting Actor for the sci-fi film Cocoon (1985)).


The movie marks the first time in history that the third movie in a trilogy was nominated for Best Picture, by the Academy Awards and Golden Globes, even after the first two failed to win. It is also the only time that a 3rd movie has won the Best Picture Oscar, and only the second sequel in history to win (after Godfather: Part II, The (1974)).


The movie tied with Ben-Hur (1959) and Titanic (1997) to win the most Oscar's (11) in a single year.


It broke another record by winning all the Oscars for which it was nominated (11 out of 11). The previous record was nine out of nine by Last Emperor, The (1987).

I usually hate the Oscars and the Academy's insistence on creating a "big winner" out of a lousy film (e.g.
Gladiator
), so it was deeply satisfying to see the Lord Of The Rings series get its just rewards. On the other hand, I really wish they would've given Best Original Song to Michael McKean and Annette O'Toole for "A Kiss at the End of the Rainbow."
P.S. No, I am
not
rushing right out to see
Hidalgo.
Friggin' horse movie...mutter mutter...
Thursday, March 04, 2004

CLASSIC TALES FROM THE LIBERRY #10

Whoooooo-wee, this cobwebbed ol' mind o' mine has just been churnin' like a steam engine lately!  Stop me if I mix any more metaphors, but I just have to get this out before I forget it again: 

One dark and stormy night, maybe four years ago, the library was closed and I was itching to leave, only some woman was still inside talking to my boss and our security guard, and crying.  I didn't know what in the heck was going on or why this crying lady was keeping me from getting home on time.  Turns out our security guy had spotted her leaving the building only to get accosted by a panhandler, right on our front doorstep.  Security Man swept in to take care of it, only the homeless dude, as it turns out, was the one getting harrassed by the kindly Christian lady.  Yep, she had seen him around a local bar and was worried that he was straying from the flock.  For whatever reason she had a near breakdown and was weeping for all the souls that she wanted to save.  I'm pretty sure she saw the Apocalypse coming and didn't think she'd have time to get to all the lost sheep before it was too late.  What a martyr.


Wednesday, March 03, 2004
QUOTE OF THE WEEK
"I once wrote a whole series of commercials for Jell-O. All of a sudden I got these commercials for Jell-O in my head. Visuals and everything. But I never sent them in. It's like dreaming a dream. Sometimes the music will keep me up at night. It's just there and if it wants to play with me and I don't get up, it keeps me awake."
--
Buffy Sainte-Marie
Tuesday, March 02, 2004

CLASSIC TALES FROM THE LIBERRY #9 (number nine...number nine...number nine...)

Just when I thought the liberry well had run dry, a little voice in my head reminded me of an old story.  Perfect timing, too, because now I can continue to lure people here under the guise of being a library blog, which I most certainly have not been for quite some time now, despite the misleading moniker which I steadfastly refuse to change.*

The voice in my head was actually a real voice passing by my car window the other day.  I turned to see who it was and recognized the face as "Donald," crossing the street and talking loudly to himself (or some invisible entity).

Donald was a young man who used to come in regularly several years ago, but I haven't seen him in a long time.  He was a frequent internet user and hatched a scheme to get himself extra time by coming in and pretending to be his own mute twin brother, "Chris."  I think we (the staff) were so stunned by the audacity of this ploy that we had no choice but to accept it.  Sure, why not, the kid's got a mute twin brother, okay?  Let's be nice to the guy. 

As time went on, though, both Chris and Donald would show up on the same day wearing the same clothes, so we had to finally give in to reality and refuse him access.  I don't remember him being particularly argumentative about it, and I wish I could recall if Chris miraculously began to talk after we called him on it, or just shrugged and gave up. It's been so long now that I'd completely forgotten about him, at least until he re-appeared as a ranting lunatic on the street.

It's kind of creepy, too, because even though he was always very polite (and he was, despite the shenanigans), one of the last times I remember seeing him, he'd gone tearing off out the door for some reason, and accidentally dropped a huge hunting knife on his way out.  Maybe he was chasing the same thing I heard him yelling at the other day.


*I still do work in a library, I just choose not to blog about it anymore.  It gets a little stale after awhile, and I don't want the "funny" stories to seem elitist, which just isn't any fun to read. Also, you know, "the hills have eyes," but stay tuned for another Classic Tale in the near future (and maybe I'll get around to blogging about the increasingly distressing outbursts of youth violence in the neighborhood).


Monday, March 01, 2004
COMIC BOOKS COMING TO THE BIG SCREEN: ALL JUNK
Well, mostly junk.  Not only is
Spider-Man 2
on the way, which I have lower than low expectations for (I'm one of a dozen Americans who hated the first one), we've got Nic Cage as
Ghost Rider
(sounds delightful), John Travolta as the bad guy in
The Punisher
(could it possibly be worse than the 1989 Dolph Lundgren movie?), Christopher Nolan's
Batman
movie (which might actually be good),
Blade: Trinity
(haven't seen the first two), Halle Berry's
Catwoman
(the costume looks ridiculous and the director is named "Pitof"), not one but two
Daredevil
sequels (including a film that focuses on Jennifer Garner's bland Elektra), Kevin Smith takes on
The Green Hornet
(maybe, it's still sketchy at this point), and
Hellboy
has a sweet-looking cast, but I don't know the story so I have no expectations whatsoever.  There's some more in
development limbo
, none of which look too promising (unless
Watchmen
ever gets made).  Oh!  And of course
Alien vs. Predator
, but that could well turn out to be a total suckfest, too.  We should find out August 6th!  
Saturday one of our regulars was showing off the old "Sub-Mariner" comic he'd bought and kept telling us "he's a punky fish man!"  It was pretty awesome.